Euro 2016: Marseille braced for more unrest as England-Russia match looms
Comments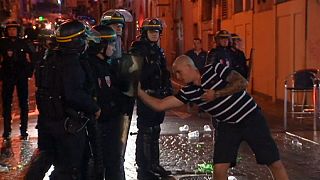 What has Marseille done to deserve this?
It was civil war in the Old Port district last night

Restaurant Manager
Friday was the second night running that arrests were made amid unruly behaviour by some England football fans that has marred Euro 2016 festivities in the French Mediterranean city.
More violence in #Marseille - and more tear gas pic.twitter.com/pp7LFlC6Q5

— emma murphy (@emmamurphyitv) 10 juin 2016
On Saturday – with Marseille hosting the England versus Russia match, identified as high-risk when it comes to hooliganism – the fear was that things would go from bad to worse.
One local restaurant manager has already seen enough.
"The police did their job," said Jean Patrick Berbera, who runs 'Au Vieux Port'.
"But it was civil war in the Old Port district last night."
"This is one of the five risky matches of the tournament … British and Russians with the heat, that can be explosive," Sports Minister Patrick Kanner told i-Television on Saturday. "Everything will be done to secure that match tonight" he added.
The terrorist threat is the main security fear surrounding the month-long football tournament.
France is still under a state of emergency after Islamist militants launched simultaneous assaults on entertainment venues in Paris in November, killing 130 people.
But Marseille always knew hooliganism was a possibility. In the 1998 World Cup, England fans were involved in serious disorder over several days in the city before and after a match against Tunisia.
About 1,000 police were being deployed in Marseille as up to 70,000 England fans and 20,000 Russians arrived ahead of Saturday's match between the two countries.
Some England supporters think the latest unrest has been blown out of proportion.
"To be honest, I think it has all been hyped up in the press," said Anthony Boyd.
"There was no violence that I have seen or anything. There were England fans having a good time, chanting, that is about it."
And it is important to remember that most supporters have come to Marseille for the football – whether they be English or Russian.