Strikes and protests across France on eve of Euro 2016
Comments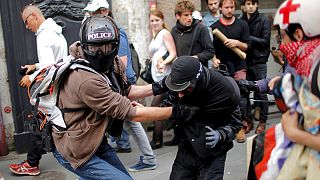 The day before the Euro 2016 football championship kicks off, the French government was working overtime to settle a dispute with the state rail company SNCF.
As foreign visitors and football fans arrived, the nine-day rail strike threatened to disrupt travel to the tournament that France is hosting in ten cities across the country.
Air France pilots meanwhile are planning their own four-day walkout from Saturday (June 11) in a protest over pay.
The airline's CEO said the strike would not paralyse travel to the tournament.
He said that football fans could just drive or take the train.
The work stoppages have extended to refuse collections.
Police removed blockades outside rubbish collection depots around Paris, but workers inside subsequently walked off the job.
As rubbish piled up on the streets of several cities one Parisian restaurant owner said: "Customers can smell this rubbish, so they avoid the place. Can you imagine drinking coffee around this stink? They just walk away."
A woman driver said she saw a plague of "huge rats."
Workers briefly blocked France's biggest wholesale market near Paris: part of a wave of demonstrations against government plans to reform the country's labour laws.