Air France: Euro 2016 travel fears as pilots' strike begins
Comments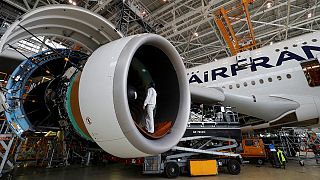 Air France pilots began a four day strike on Saturday – the latest industrial action in the host country of Europe's football championship that could disrupt travel plans for fans.
However the firm says that more than 80 percent of its flights are operating, with priority given to those cities where matches are taking place.
Pilots industrial dispute: more than 80% of flights maintened on Saturday 11 June & #AirFrance commercial measures https://t.co/cm40vRv2if

— Air France (@airfrance) 10 juin 2016
"To begin industrial action at the start of Euro 2016 is not nice," said Air France Chief Executive Frederic Gagey.
"If there are things to discuss, let's discuss them but not under pressure."
The airline says the walkout over pay cuts will cost it some 5 million euros a day.
Unions also want guarantees about the long-term future of Air France, claiming it is threatened by the development of other parts of the Franco-Dutch group it forms with KLM.
"We would like more growth in the years ahead at Air France than at KLM," said Veronique Damon, General Secretary of the SNPL union at Air France.
Air France pilots join train and garbage strikes as Euro 2016 gets under way https://t.co/zhxvhqj1Yf

— FRANCE 24 (@FRANCE24) 11 juin 2016
With passengers on the frontline of delays and cancellations, the patience of some with pilots is wearing thin.
"I think that when you are paid like they are – 6,000 euros at the start (of their career) and 18,000 at the end – they should not go on strike," said Pierre, a passenger at Charles de Gaulle Airport in Paris.
The pilots' strike comes amid weeks of nationwide protests against plans to reform France's labour laws, with industrial action that has seen refineries blocked, rail travel disrupted and rubbish piling up on the streets of Paris.