Sturgeon clashes with Johnson in bitter Brexit debate
Comments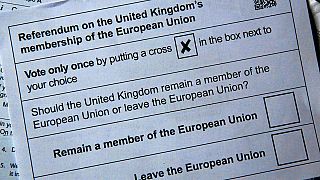 Immigration, EU contributions, trade policy and NHS funding were the subjects which dominated the latest television debate in the Brexit campaign.
The big hitter for the "Remain" side was Scottish First Minister Nicola Sturgeon which also featured Labour MP Angela Eagle and Conservative Energy Secretary Amber Rudd. The "Brexiters" led by former London mayor Boris Johnson included
Labour's Gisela Stuart and Conservative Andrea Leadsom.
Nicola Sturgeon spoke openly about the economy: "If we're not in the single market, it is harder for companies to export because of their goods and services get more expensive, and imports coming here get more expensive, which puts prices up as well."
But Johnson countered that a vote to leave would give Britain more power: "Think what we could do if we take back control. Not just of our money, of our immigration, but also of our trade policy."
Members of both sides frequently interrupted each other, claiming what the other was saying was untrue.
Fear of the unknown also played a predictable part in the debate, a lot of which resembled an often repeated rehearsal with the now standard jibes and personal barbs.
Johnson was attacked by the "Remainers" over his alleged Conservative party leadership ambitions.
Unsurprisingly, both sides claimed victory in the contest which was held just hours before the extended deadline for voter registration – two weeks before polling day on June 23.