Making more history...Could Clinton pick a woman for her running mate?
Comments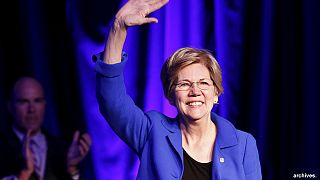 US Senator Elizabeth Warren was all smiles as she left a meeting at Hillary Clinton's home in Washington on Friday.
The scene will do nothing to dampen speculation that the progressive firebrand could be Clinton's choice of running mate as the presumptive Democratic nominee prepares to take on Republican Donald Trump in November's presidential election.
Clinton has already made history as the first woman to lead a major political party in its quest for the White House. An all-female ticket would go one step further.
.@SenWarren to @Maddow: Donald Trump cannot be the one who leads the United States of America.https://t.co/qQ2gtzhxmF

— Hillary Clinton (@HillaryClinton) 10 juin 2016
What is more, Elizabeth Warren, a fiery critic of Wall Street, is popular among Bernie Sanders' supporters who Clinton needs to win over. Her Democratic rival is still in the race for next week's final nominating contest but says he will work with the former Secretary of State to defeat Trump.
Vice President Joe Biden has now announced his support for Clinton…a big boost alongside Warren's backing.
But the endorsement that is really expected to raise her standing heading into the general election came from President Barack Obama who said of her in a video message released on Thursday that: "She has got the courage, the compassion and the heart to get the job done".
President Obama endorses Hillary: "I don't think there's ever been someone so qualified to hold this office." https://t.co/KetvKoa853

— Hillary Clinton (@HillaryClinton) 9 juin 2016
Donald Trump however used Twitter on Friday to remind voters of a time when Obama was less complimentary.
Trump tweeted what he presented as an Obama campaign radio ad from the then White House hopeful's 2008 contest against Hillary Clinton for the Democratic presidential nomination.
I rarely agree with President Obama- however he is 100% correct about Crooked Hillary Clinton. Great ad!https://t.co/aOvVsZfAW3

— Donald J. Trump (@realDonaldTrump) 10 juin 2016