Teenager Bierke stuns the big guns at Red Bull Cape Fear
Comments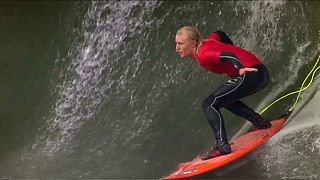 Sydney's infamous wild break was on full display this week as competitors took on the daunting challenge that is the Red Bull Cape Fear.
Australian teenager Russell Bierke was also in impressive form and coolly tamed the deepest tubes of the day to overcome renowned big wave barrel hunters and Bierke's childhood idols Koby Abberton, Ryan Hipwood and James Adams in the final.
The 18-year old from New South Wales just in the zone and finished the day with a near-perfect two-wave heat score of 19.97.
As well as watching the weather maps and finding the biggest and heaviest swells around the globe to challenge himself further, Bierke's next objective is to get a wildcard into next season's Big Wave World Tour – judging by his recent performance off Botany Bay that objective is well within reach.