18 people killed after bus driver loses control
Comments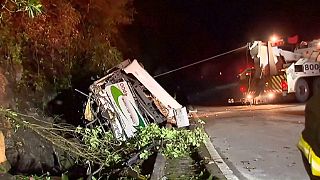 At least 18 people have been killed after the driver of the bus they were travelling in lost control of his vehicle.
Investigators say it hit a barrier, overturned and fell down a ravine as it was driving near the coast of the Brazilian state of Sao Paulo.
Most of the dead are students.
"It's a war zone down there," police officer Fabio Pierre told reporters. "The bus lost control on a curve. It's too early to say if it was a mechanical failure or excessive speed."
Fifteen people were people killed on the spot, including the bus driver. Firefighters say three injured passengers died in hospital. The victims are mostly students.
Road collisions are common in Brazil. They cause about 43,000 deaths a year.