Radical performance artist Pavlensky released in Moscow
Comments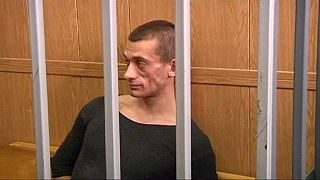 Radical political performance artist Pyotr Pavlensky has been set free by a Moscow court after spending seven months in jail.
He was arrested for setting fire to the door of Russia's intelligence service or FSB. He said the performance was intended to draw attention to what he said were the 'terror tactics used by the FSB.
The judge fined him around 7,000 euros for 'damaging a cultural heritage site' and he had to pay an administrative fine of another 7,000 euros.