Euro 2016: Conte expecting tough time in France as Italy look to bounce back from poor 2014 World Cup
Comments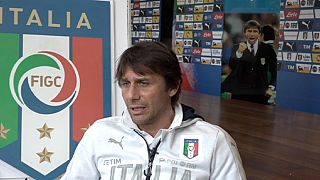 Either side of a runners-up finish at Euro 2012, Italy were embarrassingly dumped out of the World Cup at the group stage in both South Africa and Brazil.
Despite this recent wobbly form Italy's footballing pedigree is unquestionable.
But coach Antonio Conte hopes his side can overcome their recent struggles and a diminishing pool of home talent as they go in hunt a second European championship title and first since 1968.
He said: ''Let's say that our history in this sport is very important. Italy is always considered a very strong footballing nation in terms of clubs and also the national team. But at the moment, we are struggling.
''Let's take the number of Italian nationals playing in our clubs: only 34%, because 66% are foreign players. So, you can understand the difficulty in finding and choosing Italian players for the national team. It's a difficult situation and it's also difficult to find new talent in the country. We can use many excuses, but the important thing is to find a solution for this country in order to be competitive again and find world class talent as we did in the past.''
Despite missing a few key players due to injury, Italy always remain a threat at major tournaments.
But Conte believes there are teams out there worthy of a favourites tag – notably the hosts France.
He said: ''For this Euro, I don't want to talk about a minimum target for Italy. Of course, there are other teams with more attributes than us to be considered "favourites" and other teams are considered outsiders. We were unfortunate because we lost two very important players for us in Marco Verratti and Claudio Marchisio, so you know we want work hard and try to be the surprise of this tournament.''
''In my opinion there are four or five favourites to win this trophy. France are one because they have a strong team, young players, all of them playing in big European clubs and they are the host country. Every time France host this kind of competition, they go on to win it. The World Cup in 1998 and the European Cup in 1984. I also fancy Germany because they are the world champions. Belgium are the leading European team in the world rankings with strong players and also Spain are up there. Personally, I like England and Portugal too.
''We'll take it match by match. We are in one of the most difficult groups with Belgium, Sweden and the Republic of Ireland and I expect very tough games. I only want to think about the next match, hopefully reach the next stage and then we will see who we play after that.''
Conte also admitted that despite Italy possesing a fine record in major tournaments history counts for nothing when it comes to the crunch on matchday.
He said: ''When people talk about the Italian national team, there is always respect for our history and our tradition, but we want to scare opponents with our performances on the pitch and not only for what we have achieved in the past.''
Italy's Group E opener is against the Red Devils of Belgium on Monday at the Parc Olympique Lyonnais in Lyon.