Massialas takes fencing gold at the Shanghai Grand Prix
Comments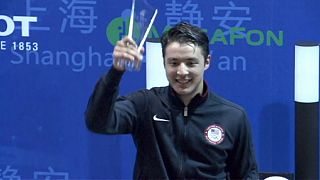 Alexander Massialas maintained his good form to win the Shanghai Grand Prix
The American had a closely fought battle in the semi-final with local boy Chen Haiwei.
The two were head to head all along, with no quarter given. They finished the fight with the closest possible result, 15-14, still within the first period.
Massialas encountered less resistance in the final against Lee Kwanghyun of Korea. The American made light work of his opponent to win by 15 points to five.
The victory means the 22 year old maintains his ranking as world no1 foil fencer.
The gold is Massialas' first since November 2015, when he won the Prince Takamodo world cup event in Tokyo.
Massialas wlll be hoping to improve on his 13th-place finish at the London 2012 Olympic Games
The gold is the second medal won by a US fencer in Shanghai this weekend.
Lee Kiefer, currently No3 in the world took the silver medal Saturday in the women's competition.