Muhammad Ali - "an outrageous humanitarian"
Comments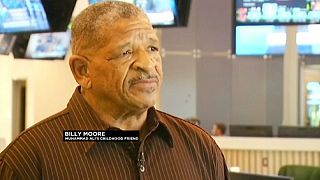 Tributes are coming in from friends of boxing legend Muhammad Ali, who has died at the age of 74.
I have never seen him angry, he was just a fabulous person
Asked how he would like to be remembered, Ali once said – "As a man who never sold out his people."
"Louisville loves Muhammad Ali, and the world loved him, you will never hear anything bad being said about Muhammad Ali.There`s nothing bad to say, he loved everybody, he would do anything to help even if it was a stranger. I have never seen him angry, he was just a fabulous person," said Ali's childhood friend Sonny Fishback
"You knew it from the day he stepped into the yard at the training facility my father Archie Moore ran at 3517 E Street, you knew he was different, and not only as a boxer but he was different as a human being. This guy was probably one of the most outrageous humanitarians you could ever want to meet. We were in Portland, Oregon, he sat in the back of a limousine and signed autographs for over four hours," added childhood friend Billy Moore.
Married four times, Muhammad Ali had nine children.
Family, friends and national and international figures are expected to gather for his funeral service.