'Rest in peace, champ': the world remembers Muhammad Ali
Comments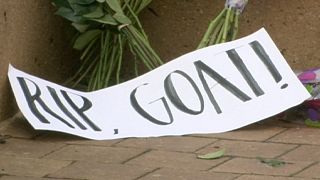 The world is mourning boxing great Muhammad Ali.
He shook up the world and the world's better for it.

US President
Impromptu memorials are taking place across the globe with everyone from the United Nations to the US president paying tribute to the heavyweight champion.
He shook up the world, and the world's better for it. Rest in peace, Champ. pic.twitter.com/z1yM3sSLH3

— President Obama (@POTUS) June 4, 2016
Fellow boxing champion Vitaly Klitschko said:
"He is a legendary person. He was (an)example for hundred(s) of millions of people around the world. The person who did for sport, for boxing, more than anyone. Deep condolences for all relatives. And I want to say Muhammad Ali is still alive. His spirit, his idea is still alive in our heart."
Ali was remembered with fondness in Kinshasa, in the now-Democratic Republic of Congo, where he famously knocked out the previously-undefeated George Foreman.
"Boxing gained in value here thanks to him. He encouraged many young people to start boxing and brought attention to our country, Zaire at the time," said one man.
Married four times, Muhammad Ali had nine children.
Family, friends and national and international figures are expected to gather for his funeral service.
In tweets
Testimonials are also pouring in across the social networks, with many using the hashtag #GOAT (Greatest Of All Time).
As UN Messenger of Peace @MuhammadAli spent time outside the ring advocating for ppl in need https://t.co/jxO4C3NJzIpic.twitter.com/F349s8taMu

— United Nations (@UN) June 4, 2016
#RIP to the legend @MuhammadAli. Revolutionised the sport. Redefined boundaries. Stood up for what he believed. The original #GOAT

— Thierry Henry (@ThierryHenry) June 4, 2016
Float like a butterfly, Ali. May your wings take you to even greater heights #RIPMuhammadAlipic.twitter.com/XogZQHWNFZ

— Foster The People (@fosterthepeople) 4. Juni 2016
"Don't count the days. Make the days count." #RIPMuhammadAlipic.twitter.com/mtNzrsO79K

— James (@J16James) 4. Juni 2016
#RIPMuhammadAli Legend pic.twitter.com/glOQJFpYWd

— Knean (@Clean_Knean) 4. Juni 2016
"Float like a butterfly, sting like a bee. The hands cant hit what the eyes cant see." @MuhammadAli#RIPMuhammadAlipic.twitter.com/zntoKfSRCr

— Scott Eddy ✈ (@MrScottEddy) 4. Juni 2016