Deadly downpours cause havoc as the river Seine in Paris reaches its highest level in 30-years.
Comments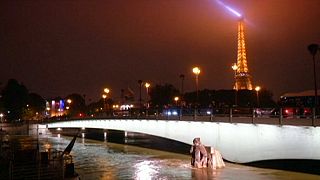 The river Seine in Paris has swollen to its highest level in more than 30 years.
Battered by days of heavy rainfall, water levels in the centre of the French capital rose above six metres, swamping small quayside businesses and forcing two of the city's metro stations to close.
For now, the river remains well below the record highs of 1910 – that saw the Seine top 8.6 metres.
Two of Paris' most famous landmarks, however, weren't taking any chances. Both the Orsay and the Louvre museums were shut to the public on Friday as staff desperately scrabbled to move priceless artefacts from cellers to higher-ground.
Dozens of swanky properties in Paris' chic 16th arrondissement were also submerged. French insurance firms fear the total cost of the flooding could be more than 600 million euros.
Some of the hardest hit areas continue to lie just south of the capital. In the suburb of Villeneuve-Saint-Georges troops were sent in to help stranded residents. Water levels are not expected to recede anytime soon.