US Speaker of the House Paul Ryan backs Donald Trump as presidential candidate
Comments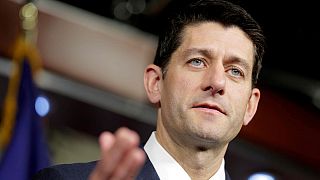 The most senior elected Republican in the US has endorsed Donald Trump as the party's candidate for November's presidential election.
It took some time just to have those conversations
"What matters to me more than anything else are our core principles, the policies that come from them, the agenda that we are driving in the House that we are about to release," said Speaker of the House, Paul Ryan.
"I just wanted to have a good comfort level that these policies, these principles and policies are something that we would be able to work with him on and it took some time just to have those conversations."
"Not just with myself, but with our staffs to make sure that we understood each other very, very well".
What does this mean?
The speaker's endorsement consummates a political marriage the GOP establishment has been resisting all year https://t.co/2PGclAE0rA

—

POLITICO

(@politico) June 3, 2016
Insiders say Ryan's backing is an important step towards unifying party loyalists behind the presumptive Republican nominee.
Some in the Republican Party have voiced concerns about Trump's candidature.
The decision ended a long period of soul-searching over whether to back Trump, due to concerns about his bellicose rhetoric and positions on issues like trade and immigration.
Ryan's backing of Trump could persuade more reluctant Republicans to get behind the billionaire businessman as their best chance to win the White House.
It could also help Trump convince doubters that he can bring the party together. The Republican nominating convention is in July.
What they are tweeting
'We shouldn't accept ugliness,' Ryan said in March. Today he found a way. Our editorial on his sad endorsement. https://t.co/9Jkk6SLXf1

— Fred Hiatt (hiattf) <a href="https://twitter.com/hiattf/status/738555177301577728">June 3, 2016</a></blockquote> <script async src="//platform.twitter.com/widgets.js" charset="utf-8"></script> </p> <p> <blockquote class="twitter-tweet" data-lang="en"align="center"><p lang="en" dir="ltr">Trump in San Jose says Bobby Knight was "one of the few endorsements that worked out nicely" <br><br>Has yet to mention Ryan</p>&mdash; Joe Perticone (JoePerticone) June 3, 2016