Tel Aviv Gay Pride Week accused of "pinkwashing" Israeli abuses
Comments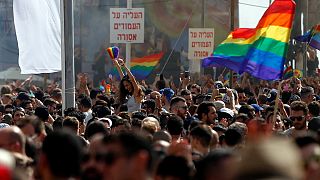 Tel Aviv has become in the last decade a choice destination for the gay community on holiday, and Gay Pride Week which kicks off on Friday has become huge, with 200,000 people expected to party.
From a couple of thousand gay tourists in 2006 to some 50,000 today it has been a goldmine for the city and a touted success for the Brand Israel campaign, launched in 2005.
Its brief was to change Israel's image from a country at war to a fun, liberal playground, modern and welcoming.
However some in the Israeli LGBT community are furious, and say the whole vibe is nothing more than "pinkwashing" of what they call Israel's policies of occupation, segregation, and violence.
The Boycott Tel Aviv Gay Pride group intends to campaign for tourists to realise that Israel is not the human rights oasis it is trying to sell itself as.