Japanese boy found safe and well after six days missing in dense forest
Comments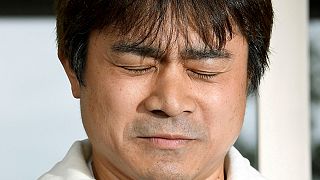 Missing boy found safe after a week
Left by side of road for being naughty
Six-day search has gripped Japan
A small boy missing since Saturday in a dense, remote forest in Japan has been found alive and well.
We have reflected on what we did and it was really excessive
Seven-year-old Yamato Tanooka was found
at a military camp near Shikabe in northern Hokkaido, the country's northernmost island.
Yamato Tanooka, 7-year-old boy missing nearly a week, was found with no noticeable injuries https://t.co/v6PA60w7g6pic.twitter.com/ZydWfehB1h

—

CNN

(@CNN) June 3, 2016
Missing Japanese boy Yamato Tanooka found unharmed in military barracks https://t.co/xcMzAcJP37pic.twitter.com/0Xz41pq535

—

IBT

imes UK (@IBTimesUK) June 3, 2016
The site is several kilometres from where he was last seen six days ago.
Scores of rescuers, including troops, have been searching the area where the boy was thought to have been left.
He managed to survive for almost a week in the densely-forested area. Temperatures at night fell as low as seven degrees Celsius (45 Fahrenheit). There was also heavy rain and Yamato was only wearing a T-shirt and jeans.
How was he found?
Takayuki Tanooka, father of 7-year-old boy Yamato Tanooka who went missing on May 28 https://t.co/jF7tXnnny6

— cousu main (@cousu_main) June 3, 2016
Yamato was found by a soldier on a parade ground at a military barracks.
The Kyodo news service says he told police he had been there for several days after wandering in the forest.
UPDATE: Yamato Tanooka taken to hospital suffering exhaustion after 5 days without food https://t.co/jc73FhTiP2

— Daily Mail Online (@MailOnline) June 3, 2016
He has been taken to hospital by helicopter, where he was reportedly happy to be reunited with his parents.
What will happen now?
The hospital says Yamato has some light injuries and has only taken in water over the last week.
He will remain in hospital for at least a day, health workers say.
Parental discipline
The case has sparked a row in Japan about methods of parental discipline.
The boy's parents had made him get out of their car as a punishment for bad behaviour on Saturday.
They left him in an area of woodland known to be inhabited by bears.
They first said he disappeared while they were foraging for edible plants. However, they later admitted to police they had left him by the road to discipline him for throwing stones at people and other cars.
What they are saying
"One of our soldiers was preparing for drills this morning and opened the door of a building on the base and there he was," – Self-Defence Force spokesperson on NHK national television.
Takayuki Tanooka speaks to media the day his son was found alive after 6 days in a forest https://t.co/FvdU4MRCjWpic.twitter.com/RV2UgRTg5c

— Daily Mail Online (@MailOnline) June 3, 2016
"We loved him before, but I hope to give him even more attention now. We have reflected on what we did and it was really excessive," –
Takayuki Tanooka, Yamato's father.