Rome parade celebrates 70 years of Italian democracy
Comments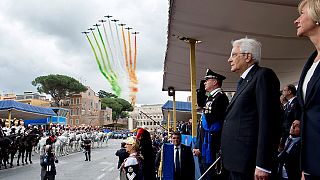 Italy today marks the seventieth anniversary of its republic with a parade through the streets of Rome.
In 1946, Italians voted in referendum to oust the monarchy and install a republic after the rule of Fascist dictator Mussolini.
The celebrations also marked the anniversary of the first vote for women, who took part in the referendum.
In attendance were various members of the Italian authorities, including Prime Minister Matteo Renzi and President Sergio Mattarella, and for first time Italy's mayors took part.