Paris foreign minister summit aims to revive Middle East peace talks
Comments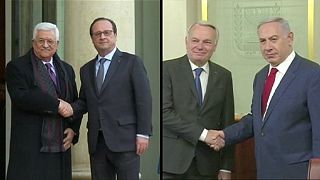 A summit of foreign ministers in Paris today (June 3) hopes to revive Israeli-Palestinian peace talks which stalled in 2014.
The meeting was set to include the Middle East Quartet: Russia, the EU, the US and the United Nations; as well as the Arab League, the UN Security Council and about 20 countries. There will be no Israeli or Palestinian participation.
Israel says only direct talks with the Palestinians can bring peace.
"A lot has changed in this region in the past few years and the Arab peace initiative is one new opportunity which may help convince the Palestinians to come for direct and bilateral talks," said spokesman for the Israeli prime minister, David Keyes. "The French initiative sadly provides a multi lateral framework which the Palestinian leadership sees as an imposed solution on Israel and an escape path from making those difficult decisions."
Palestinians have welcomed the French initiative.
"Until now Israel has rejected this so France thinks, and is right to, to gather all these countries to set out a framework," said Palestinian foreign minister Riad al-Malki. "Then they can talk to the Palestinians and the Israelis."
Palestinians fear that Israeli settlements could deny them a viable state.
Israeli prime minister Benjamin Netanyahu says he is willing to make concessions, but Israel intends to hold on to major settlement blocs in a possible land-for-peace deal.