"It's a boy"- Baby panda born in Belgium zoo
Comments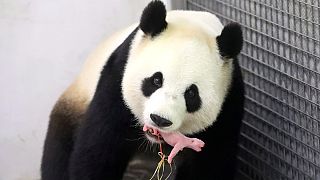 Zoo keepers in Belgium are celebrating the birth of a baby giant panda, an event so rare it is being described as a 'true miracle'.
The healthy male cub, which is hairless, blind and weighs a mere 171 grams, was born to six-year-old mother, Hao Hao, at Pairi Daiza wildlife park outside Brussels.
The cub has yet to be named.
Notoriously reluctant to mate in captivity, Hao Hao's pregnancy was only confirmed a couple of weeks ago.
There are just over 1850 pandas in existence worldwide – 300 of those are in captivity in an effort to protect the species.