World's longest and deepest train tunnel opens in Switzerland
Comments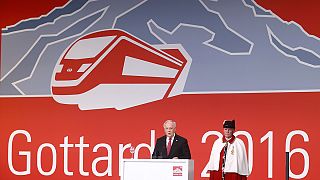 The world's longest and deepest train tunnel has opened.
Switzerland's Gothard tunnel is part of a high-speed rail network that will eventually stretch from the Italian city of Genoa in the south of Europe up through Germany as far as the Dutch city of Rotterdam.
But the section penciled in for Germany's Rhine valley has not even passed the planning stage. It is about 20 years behind schedule.
A point that was perhaps lost on the German chancellor, Angela Merkel who said: "This [tunnel] is of course a wonderful example for how you can travel even more easily from Italy via Switzerland along the Rhine northwards all the way to the Netherlands. This will bring together many people, this will bring together cultures, this will strengthen our connections and I think that is wonderful."
A spectacular show by acrobats celebrated the new Swiss tunnel which opened ahead of schedule.