Mogadishu hotel attack: 15 dead, al-Shabaab claim assault
Comments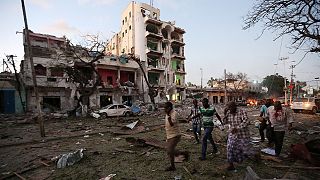 Smoke rises from a hotel in Mogadishu after a car bomber rammed the gates and gunmen stormed the building in the Somali capital.
At least 15 people have died in the attack which has been claimed by terror group Al-Shabaab.
Politicians Mohamud Mohamed and Abdullahi Jamac who lived in the Hotel Ambassador were among the victims. Another 40 people were wounded.
One survivor describes the panic, as he screamed for help saying there were so many people under the rubble, begging for help or calling for ambulances.
Five hours after the siege began, Somali security forces continued to battle into the evening, while people were rescued from the scene.
Al-Shabaab was driven from the capital in 2011, but launch frequent attacks to overthrow the Western-backed government.
The explosion damaged my friends office, who's located in front of the place. #Mogadishu#Somaliapic.twitter.com/QaEvMFXQz4

— Mohamed Midnimo (@mmidnimo) June 1, 2016