Public sector strike heightens industrial strife in Belgium
Comments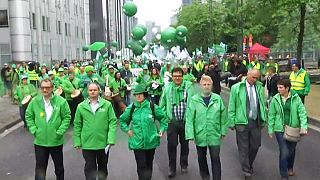 Public sector workers went on strike in Belgium on Tuesday in protest at budget cuts and other austerity measures.
The mass walkout, affecting everything from rubbish collection to public transport, piles more pressure on a government already dealing with industrial action by prison guards and railway workers.
At Brussels South Railway Station, it all means more chaos and confusion for those directly affected, with virtually no trains heading towards the French-speaking south of the country.
"I took a taxi this morning. Fortunately I found one. We hope it is not going to last for a long time," said would-be passenger, Belgian-resident Maria Rotaru from Romania.
"On the one hand, I agree with them," said fellow traveller Laure Dassonville.
"But on the other, I think they are going too far. The whole country is cheesed off with it. It is really not good."
Only a limited service of buses, metros and trams has been running in the capital, while some schools and hospitals across the country also reported that staff had joined the protests.