Egyptian court hands down life sentences to 36 Islamists
Comments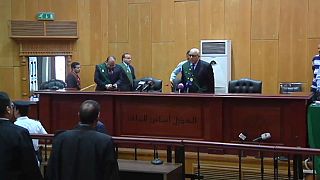 An Egyptian court has sentenced 36 Islamists, including a top leader of the outlawed Muslim Brotherhood, to life imprisonment.
Mohamed Badie and the other defendants were sentenced for inciting violence that led to the killing of three people in July 2013.
The case goes back to the days after the military's removal of Islamist president Mohammed Morsi, a Muslim Brotherhood member.
It's one in a series of mass trials involving members and supporters of the Muslim Brotherhood since they were toppled from power in 2013.
Badie has been given the death penalty in another case.
Rights groups have criticised Egypt for the mass trials and many death penalties handed down en masse.