Brazil anti-corruption minister quits after 'trying to spoil' corruption probe
Comments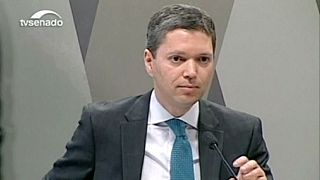 Anti-corruption protesters in Brazil have been given yet more ammunition in their drive to clean up public life.
The government minister appointed only last month to root out corruption has resigned after being caught apparently advising politicians on how to avoid corruption investigations.
Fabiano Silveira is the second minister from Michel Temer's interim administration to quit in a week, after leaked recordings suggested he tried to derail a widespread corruption inquiry.
He claims the comments were taken out of context.
In the taped conversation broadcast on TV, he is heard apparently advising the Senate speaker on how to defend himself from the probe into the state oil company Petrobras – as well as criticising prosecutors.
The recording was made by an ex-senator who is also under investigation and who has entered a plea bargain.
Brazil's suspended president Dilma Rousseff has argued that the impeachment proceedings against her were designed to stop the Petrobras probe.