Real Madrid celebrate Champions League win with parade
Comments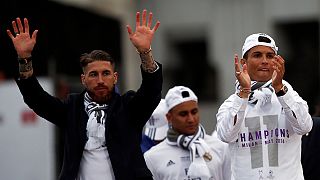 After the penalty shootout in Milan, Real Madrid arrived in the Spanish capital on Sunday to a heroes welcome.
Celebrating their historic Champions league win over city rivals Atletico with an early morning open-top bus parade, the team showed off the trophy to thousands of ecstatic fans who had hit the city's streets.
Real Madrid fan Manuel said:
''It's been worth the wait, to see these great champions and the huge emotion that being a Real Madrid fan involves, especially when you share it with so many people."
For Atletico fans losing to their local rivals for a second time in two years in a Champions League final will surely be a bitter pill to swallow.
A fact not lost on Real's jubilant supporters who watched their side scoop a record breaking 11th victory in European football's premier club competition.