France and Germany mark Verdun battle centenary
Comments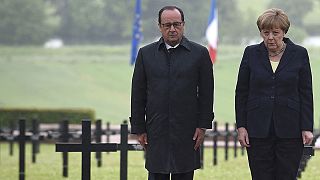 French President Francois Hollande and German Chancellor Angela Merkel are marking the 100th anniversary of the battle of Verdun.
The two leaders began the ceremonies under heavy rain at a German military cemetery.
The 10-month battle, the longest and one of the most bloody of World War One, is now seen as a symbol of Franco-German reconciliation.
Hundreds of thousands of French and German soldiers died in the fighting.