Spanish journalist freed in Colombia
Comments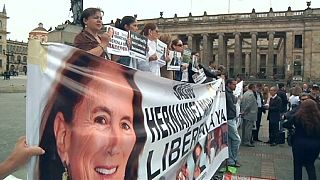 Spanish journalist Salud Hernández has been freed by after six days in captivity in Colombia.
She was reportedly held by the country's second largest rebel group Ejército de Liberación Nacional (ELN).
It comes after the government and the FARC group demanded that the ELN free Hernández and two other journalists. The reporters from Colombian broadcaster RCN had gone missing covering the story of Hernández's disappearance.
Hoy es Salud Hernández, mañana cualquier colombiano. Esas prácticas deben terminar para siempre en Colombia. La paz impone su libertad.

— Timoleón Jiménez (@Timochenko_FARC) 27 de mayo de 2016
On her release, Hernández thanked the church and her colleagues for their support. She told reporters that the two remaining journalists in captivity would be freed over the weekend.
The ELN has yet to claim responsibility, but the disappearance occurred in a remote region where they are known to operate.
The incident surprised many as the rebel group had agreed to enter into peace talks with the government at the end of March.