Operation Condor: Argentina's ex-junta leader jailed
Comments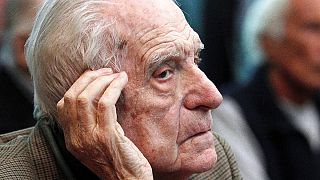 Argentina's last dictator General Reynaldo Bignone has been sentenced to 20-years in jail for crimes committed under a programme called Operation Condor.
88-year-old Bignone and 14 other army officers were found guilty of conspiring to run an international death squad.
The plan saw South America's military regimes come together to kill and kidnap left-wing opponents during the 1970s and 80s.
Human rights activists have hailed the verdict. Laura Elgueta Diaz, a relative of one of the many disappeared under Operation Condor said: "There are 22 Chileans, 22 families based in different parts of the world right now, waiting for this sentence and now we have the hope that this will be the beginning of truth, that our countries can unite behind a sense of justice which was accomplished here in Argentina."
Drawn up by intelligence chiefs in 1975 from Argentina, Bolivia, Chile, Paraguay, Uruguay and later Brazil, the six-nation plan set out to capture exiled dissidents in neighbouring states. More than 100 people are feared to have died at the hands of Operation Condor, allegedly backed by the CIA.
The exact number killed, however, may never be known.
Judges in Buenos Aires continue to deliberate over the sentences of several other former military officers.