France's fuel crisis better but not yet over
Comments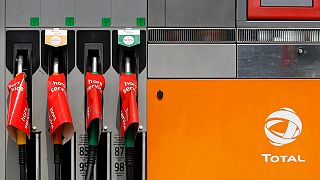 Ministers, oil industry meet in Paris
Six of the country's eight refineries affected
Strike action prolonged until next week
What has France's transport minister said?
The French transport minister has warned the country's fuel crisis is not yet over.
Following a meeting between the government and oil industry representatives, Transport Minister Alain Vidalies said the situation at fuel depots is improving.
"In some regions, the situation is almost back to normal. In other regions, we remain attentive but we cannot say that the crisis is over," Vidalies said.
He added that action to clear blockades at fuel depots could be continued if necessary.
Valls – "ready to ride it out"
Prime Minister Manuel Valls says he is ready to ride out the protests at ports and fuel depots by strikers opposed to plans to reform employment law.
Valls has taken a tough stance against the hardline CGT union which has spearheaded strikes that have shut down refineries and disrupted fuel supplies in the past two weeks.
In an interview with the French daily, "Le Parisien", Valls said he was determined to pass the reforms. He said he feels the protests will not escalate.
"When a text (of reform) has been discussed, when it has prompted a compromise with unions, when it has been adopted in the National Assembly, I consider it my responsibility to see this through."
Valls said that while he respects trade unions, including the CGT, he will not withdraw the text of the reform. However, he said he finds blockading ports, fuel depots and refineries unacceptable, especially at a time when the economy is starting to recover.
What is the latest on the situation?
The stand-off worsened this week.
France mobilised strategic oil stocks for the first time in six years.
Six of the country's eight refineries are blockaded or on a go-slow.
Strike action has been extended until the beginning of the week.
Employers are warning the strikes are starting to hurt the economy.
Why are the French unions so unhappy?
The CGT says the reforms – known as the "Khomri Law" after the minister who has proposed it, dismantles protective labour regulation.
Is employment reform really such an important issue for France?
The government says it is.
Ministers say reform is needed to fight unemployment, which currently stands at around 10 perent of the workforce.
Manuel Valls says the text, which has already been watered-down from its initial format, may be modified when it goes to the upper house of parliament for approval.
However, he insisted the government will not go back on core parts of the reform.