Sweden Prince Oscar christened in heirloom gown
Comments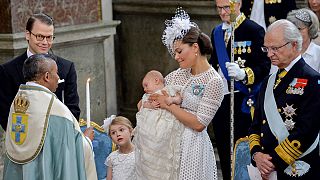 One of the newest additions to the Swedish Royal Family has been baptised in a ceremony steeped in tradition.
The only son of Crown princess Victoria and her husband Prince Daniel, Prince Oscar wore the same christening gown as all royal family members since 1906.
He was baptised with water that came from a special spring on the island of Öland, over a silver font that dates from the early 18th century.
Prince Oscar in his craddle inside the reception. pic.twitter.com/iyEQFX3Jjq

— Scandinavian Royals. (@crownprincely) May 27, 2016
The third in line to the throne was then presented to well-wishers in Stockholm.
IN PICTURES: The best, cutest and funniest snaps from #PrinceOscar's baptism day https://t.co/vue3MJtSKB#royalspic.twitter.com/hZ4BrzGy1Q

— The Local Sweden (@TheLocalSweden) May 27, 2016