Ukrainian pilot Savchenko back in Kyiv after 2 years in Russian jail
Comments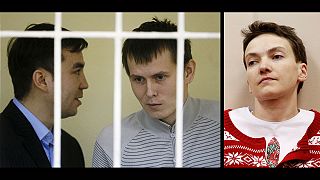 Ukrainian military pilot Nadiya Savchenko arrived home in Kyiv on Wednesday (May 25) after nearly two years in a Russian jail, part of an exchange in which two Russians held in Ukraine were returned to Moscow.
Kremlin spokesman Dmitry Peskov said that Savchenko, who while in Russian jail was elected a member of the Ukrainian parliament, was granted a pardon by Russian President Vladimir Putin to allow her to leave jail and return home.
Peskov also said that the two Russians, Alexander Alexandrov and Yevgeny Yerofeyev, were now back in Russia, having landed at Moscow's Vnukovo airport on a special flight from Kyiv.
Ukraine accused them of being Russian special forces officers fighting in eastern Ukraine, though Moscow has never acknowledged the two were following its orders.
Savchenko, a military pilot, volunteered to fight with a ground unit against pro-Moscow separatists who rose up against Kyiv's rule in eastern Ukraine.
She was captured and put on trial in southern Russia, charged with complicity in the deaths of Russian journalists who were killed by artillery while covering the conflict. She was accused of acting as a spotter, calling down the fire that killed the journalists, but denied the accusation.
A Russian court in March sentenced her to 22 years in jail. She is widely seen in Ukraine as a symbol of resistance against Russia, a perception bolstered by her defiant behaviour in court during her trial.
At one point, she interrupted the judge reading out his verdict by standing on a bench and singing the Ukrainian anthem at the top of her voice.
Reuters