Prominent journalist freed in Azerbaijan
Comments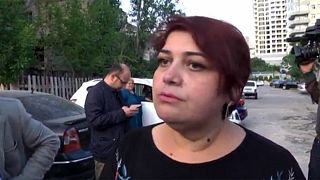 "Greetings! I am out of prison," were the first words prominent Azerbaijani journalist Khadija Ismayilova wrote on her Facebook account after being released on probation.
She saw her seven-and-a-half year sentence for financial crimes reduced to a three-and-a-half year suspended sentence.
Her detention was widely criticised by human rights activists. Human Rights Watch released a statement ahead of the Grand Prix to be held in Azerbaijan calling on the government to free prisoners saying, "the authorities have arrested or imprisoned dozens on politically motivated charges, including Azerbaijan's best known investigative journalist, Khadija Ismayilova."
The court in Baku overturned her convictions on some charges, but upheld those on illegal entrepreneurship and tax evasion. On her release she said she would continue to fight to clear her name.
"I will of course go further to the European Court and will fight until proven un-guilty on all charges. And I will hold the Azerbaijani government responsible for keeping me a year and a half in prison and for keeping me out of my job, out of my family, out of my students."
Khadija's first photo after jail pic.twitter.com/sj358k5WdU

— Khadija Ismayilova (@Khadija_Ismayil) May 25, 2016
Human rights groups celebrated the news of her release but highlighted other cases of what they say is stifling dissent.
"Khadija's release, the release of over dozen other activists is a right first step, but by no means it is enough.The government has to do much more. It has to release others in jail and has to allow them work freely in the country," explained Giorgi Gogia, regional representative of Human Rights Watch.
A reporter for Radio Free Europe, she became known for her investigative work, including allegations of corruption against the ruling family as well as human rights abuses committed by members of the government.
Khadija Ismayilova has been released! These are the stories that got her in trouble with the authorities: https://t.co/l29XJFhNxm

—

RFE

/RL (@RFERL) May 25, 2016
Good to see #Azerbaijan journo Ismayilova free. She & others like her sld be allowed to work w/o risking detention pic.twitter.com/biySIuClbh

— Samantha Power (@AmbassadorPower) May 25, 2016