French nuclear workers vote to join strike against labour laws
Comments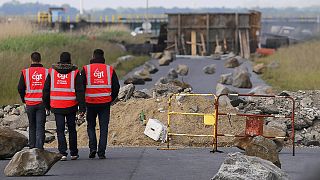 Staff at France's 19 nuclear plants have voted to go on strike on Thursday amid escalating protests against labour reforms.
Workers at the Nogent-sur-Seine plant near Paris have already started a 24-hour stoppage.
The action is not thought likely to provoke power cuts, due to legal limits on strike action in the nuclear industry and power imports from abroad.
The latest action comes as the CGT union hardens its opposition to new labour laws.
"It is no longer enough for us go out on the streets, they don't listen to us anymore. Now we will start with heavier arms, a little more substantial, and we all fight and tell the government that this is enough," said CGT official Jean-Claude Colin.
Early on Wednesday riot police moved in to bring an end to a blockade at a fuel depot in northern France.
With other depots and refineries also hit by protest action, the country is mobilising strategic oil stocks for the first time in six years.
Employers have warned the protests are beginning to hurt the economy.
Other unions have backed the reforms which have been watered down. The prime minister told parliament the CGT did not rule the country.
"No option will be ruled out. The forces of law and order have been intervening since Friday, and will continue to do so. And I want to praise their work and their composure," Manuel Valls said.
Also on Wednesday, hundreds of union workers blocked entry to the Normandy Bridge in northern France, stopping traffic at toll booths for a few hours before the authorities cleared them out.
For the CGT it's an important power struggle.
But it also needs to win the battle for public opinion.
With travel disrupted, and many motorists finding it hard to buy petrol and rationing in place in parts of the country, it's a risky strategy.