France: CGT union calls for further strikes
Comments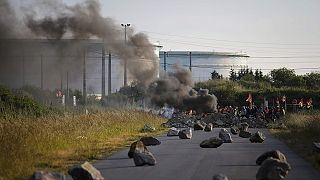 France's CGT trade union is determined to make ongoing nationwide strikes felt, its representatives have said.
Most recently, workers have voted in favour of 24-hour action at the Nogent nuclear plant, starting on Wednesday evening (May 25).
Fuel has been hit all round, with oil refineries and depots blocked in protest at not only new labour reforms, but the way they were pushed through.
Prime Minister Manuel Valls invoked article 49.3 of the Constitution allowing the government to bypass parliament and pass a labour law it says encourages the hiring of staff.
Opponents say the bill will mean more work for less money and decreased job security.
"The democratic choice has been totally pushed aside," said one striker. "The unions weren't consulted. The debate procedure in the National Assembly was also concealed. So we chose to go down the strike route, to impose our point of view until the country's economy is paralysed."
As police resort to firing tear gas and water cannon to break up some picket lines, newspaper headlines suggest the country is heading for total paralysis.
Philippe Martinez, Secretary General of CGT Union, told FranceInter radio:
"There was a call to strike. There will be general assemblies as in all companies, and we'll see how things develop…"
Journalist:
"Do you want there to be electricity blackouts, if it's necessary to go that far?"
"As long as the government refuses discussions, there is the risk that the mobilisation will amplify."
The CGT is also calling for railway workers to strike and the SNCF national, state-owned rail company has reported disruptions on some lines.