Special elite police units to help guard Tour de France
Comments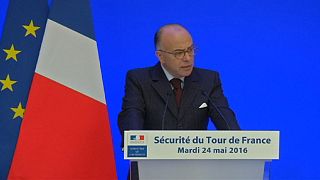 Special elite police forces are to be deployed along the route of this summer's Tour de France for the first time, to reinforce the presence of the security forces.
Soldiers are to guard key landmarks along the route as part of exceptional measures.
France has been under a state of emergency since November's terror attacks in Paris. The government says the threat level remains "very high".
Plans for the Tour were unveiled at a meeting with its organisers.
"I can therefore announce that 23,000 gendarmes and police will be present by the roadsides to ensure the security of the Tour de France. Moreover, for the first time this year I have asked the GIGN (special elite police force), to accompany the Tour de France throughout the competition and to stand ready to intervene at any moment if it proves necessary," said French Interior Minister Bernard Cazeneuve.
The government also says security failures exposed at last weekend's football cup final will be sorted out before the Euro championships get underway in June.
Searches failed to prevent firecrackers and flares from being brought into the ground.
Special ops units to police Tour de France for first time: https://t.co/bok8fEwRXGpic.twitter.com/XVtIbsL4dM

— The Local France (@TheLocalFrance) 24 May 2016