Paris attacks: victims families seek answers
Comments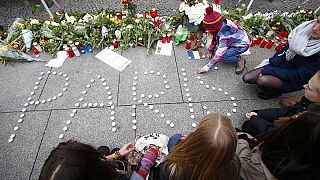 Families of the victims of November's deadly attacks in Paris have appeared before judges, hoping to learn more about what happened to their loved ones.
130 people died and 350 others were injured in the coordinated strikes by ISIL on the French capital, but relatives say they are still in the dark about many facts.
Speaking to journalists outside the hearing, Claire Houd, a relative of one of the victims of the attack at the Belle Equipe cafe, said: "This is the first hearing. Today we're all here to understand what happened. My sister was sitting outside a cafe, having dinner and yet she never came back from that dinner."
Lawyers representing victims say they want to know why the perpetrators of the attacks, including sole surviving suspect Salah Abdeslam, were not spotted sooner.
"They will explain to us what was done and what will be done. And we will certainly question the judges on what was not done. Why weren't we able to prevent what happened in Belgium and why was it not possible to arrest Salah Abdeslam earlier? These questions are crucial to this case,'' said lawyer Gerard Ghemla.
The 26-year-old Abdeslam is thought to have played key role in planning and ferrying the attackers around the French capital on the evening of Friday November 13.
Arrested in Brussels in March, he appeared before French judges last week but decided to exercise his right to silence.