Out with the old... Cabinet changes in Turkish AKP reflect pro-Erdogan stance
Comments
By
Sarah Taylor
with
Reuters, Kostas Koufogiorgos, Nasdaq, Bloomberg, Financial Times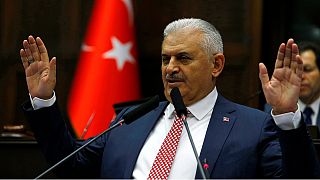 Turkey is ushering in a potentially groundbreaking, constitution-changing political age.
As new prime minister and ruling AKP leader Binali Yildirim comes in, EU affairs minister Volkan Bozkir is out and around half of other cabinet posts have been reshuffled. Bozkir was replaced by AK Party spokesman Omer Celik.
Key players in the management of the 646-billion-euro Turkish economy have kept their posts, including Deputy Prime Minister Mehmet Simsek, whom foreign investors favour as a reformer.
Long-time bureaucrat-turned-Finance-Minister Naci Agbal is also safe, as is Foreign Minister Mevlut Cavusoglu.
An apt location
The new premier announced the changes at the presidential palace, where he also vowed to work on changing the system of governance from parliamentary to presidential.
"The most important duty we have as the AK Party is to change the constitution to match the current relation between the elected president and his people in practice," he told party members.
Nichts schockt einen #Erdogan#Schockbilder#Tuerkeipic.twitter.com/LuHz4zBPR3

— Kostas Koufogiorgos (@Koufogiorgos) May 20, 2016
(
Nothing shocks an Erdogan. (That doesn't shock me…)
)
Parliamentary in name, Turkish politics is, nonetheless, dominated by President Recep Tayyip Erdogan.
The president will chair Yildirim's first cabinet meeting on Wednesday (May 25) at the presidential palace.
#Yildirim wird Ministerpräsident der Türkei pic.twitter.com/CFrXr0Fbvn

— Kostas Koufogiorgos (@Koufogiorgos) May 19, 2016
(
Yildirim, the new Prime Minister of Turkey
)
Polls suggest Erdogan remains the most popular politician. He is seeking to consolidate his 14-year hold on power in Turkey. However the nationalist MHP – whose support Erdogan may need to push through the constitutional change – appears unconvinced. It says a presidential system would inevitably lead to autocracy.
The MHP could also soon see changes. On Tuesday (May 24), Turkey's Court of Appeals approved a local court ruling for the party to hold an extraordinary congress to try to oust its veteran leader.
Several hundred party members have called for Devlet Bahceli to be removed. Polls suggest that if he were to go, it could lead to a surge in support for the MHP, possibly scuppering Erdogan's chances of securing solid parliamentary support for the establishment of a full presidential system.
Focussing on the fight against terror
Speaking when he received the AKP's nomination for the post of party leader last week (May 19), Yildirim said his priority would be the fight against terror. He made it clear that he will stand by a military response to the conflict in the largely Kurdish south east of Turkey.
Party officials and Erdogan's advisers say Yildirim's choice of cabinet signals a continuity in policy-making.
In the throes of a resurgent conflict with Kurdish separatists, Turkey is also grappling with the refugee crisis on its borders and plays a role in combatting the threat from ISIL.