Kenya police break up CORD opposition protests against 'electoral bias'
Comments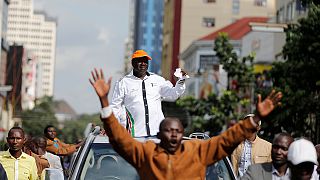 Police in Kenya have dispersed opposition protests
over the electoral process with water cannon and tear gas. At least one person died.
The opposition CORD alliance believes the country's electoral commission is biased in favour of the ruling coalition and wants its members to quit.
The next elections are not until August 2017 but tensions are already running high and Kenya is prone to political strife.
There was violence after the 2007 election and the opposition disputed the outcome of the vote three years ago.
"We as Kenyans have no faith in the IEBC (Independent Electoral and Boundaries Commission). The 2013 elections weren't clear. Even the head of the commission himself cannot give out a proper account of the votes. Even now he cannot offer Kenyans a proper count of the votes. Why are they killing Kenyans? Why are they bringing the police to kill Kenyans?" said Betty Otieno, a resident of Kibera and one of the protesters.
The government says protests are allowed, but Monday's were illegal because police were not given enough warning.
The opposition accused police of brutality, using live bullets to break up rallies.
The man who died in the western city of Kisumu was said to have fallen down while running away from clashes. Officials at the hospital where he was taken said he had no gunshot wounds.
Kisumu is the bedrock of opposition leader Raila Odinga, who lost the 2013 vote and unsuccessfully challenged the result in court.
The protests called by CORD are in their fourth week. They have been marked by violence, with the police accused of beating up protesters to break up a demonstration in Nairobi last week.