Humanitarian Summit seeks solutions in Istanbul
Comments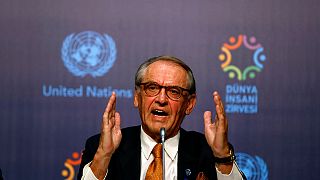 The World Humanitarian Summit, the first of its kind, is taking place in Istanbul.
It will attempt to seek solutions to the growing humanitarian problems gripping swathes of the globe.
The inaugural Humanitarian Summit shines spotlight on burdened #Turkey, says kemalkirisci</a>: <a href="https://t.co/IEFqY25HlN">https://t.co/IEFqY25HlN</a> <a href="https://t.co/NYbLRx23Ir">pic.twitter.com/NYbLRx23Ir</a></p>&mdash; CFR (CFR_org) May 22, 2016
War and climate change are adding to the burden heaped on peoples, states and
NGO
's.
Stephen O'Brien is the Under-Secretary-General for Humanitarian Affairs and Emergency Relief.
"The scale of need now forces us to look at all the changes we need to make to bring innovative and better solutions, so that we can meet needs and if we don't do it we simply condemn many generations and cohorts of people to a life, which is never going to be out of suffering."
Such is the importance of a coordinated global response Pope Francis called for prayers to "save the life of every human being, no one excluded, especially the innocents and most defenseless."
Bora Bayraktar is in Istanbul: "During this first ever summit for humanitarian issues the priority is to find a solution for he basic needs of millions of refugees. But not only that, the access of millions of children to education and sustainability is also being discussed here."