Taliban leader Mansour killed in US drone strike
Comments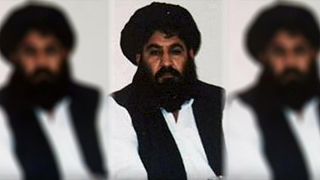 Afghan Taliban leader Mullah Akhtar Mansour has been killed in a US drone attack.
It is reported that Mansour was travelling in a car when his vehicle was blown up in the town of Ahmad Wal in Balochistan in south- west Pakistan.
Peace is what we want and Mansour was a threat to that effort
PHOTOS: Images claiming to show car hit by #US drone strike that killed Taliban leader Mansour – AmichaiStein1</a> <a href="https://t.co/hdQxmCFZ2z">pic.twitter.com/hdQxmCFZ2z</a></p>&mdash; Conflict News (Conflicts) May 22, 2016
US Secretary of State John Kerry, in Myanmar, confirmed the strike:"This action sends a clear message to the world that we will continue to stand with our Afghan partners as they look to build a more stable, united, secure and prosperous Afghanistan. The United States has long maintained that an Afghan-led, Afghan-owned reconciliation process is the shortest way to achieve peace and peace is what we want. Mansour was a threat to that effort and to bringing an end to the violence."
JUST IN: U.S. targets Taliban leader Mullah Mansour in airstrike https://t.co/ZMMJv4L4h6pic.twitter.com/WIPJz2I88P

—

CBS

News (@CBSNews) May 21, 2016
Mansour took over the Taliban in last summer and was a fierce opponent of the peace process.
The Taliban threat under Mansour has increased and group claimed the city of Kunduz in 2015.
In the capital Kabul people responded to the news of the attack:
"It's good news because the Taliban carry out suicide attacks and kill our innocent people and children. I believe that the more Taliban leaders that are killed, the more stability will grow in Afghanistan," said one man.
The Taliban now faces an internal struggle to determine who will lead the organisation and whether consensus can be reached among the various warlords and clans.