NBA: Cavaliers clipped as Raptors reignite playoffs
Comments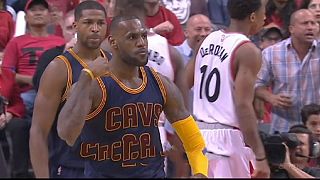 The Toronto Raptors have clawed back a game against the Cleveland Cavaliers in the best of seven-series Eastern Conference Final.
Led by DeMar DeRozan, who netted 32 points, the Raptors were more aggressive, more physical and more active in front of their home crowd as they took a 13 point lead into the break at half-time.
The Cavaliers opened the second half on a surge and cut the lead down to nine but, helped by Bismack Biyombo's franchise playoff record of 26 rebounds, the Raptors remained on track to win game 3 by 98-84.
It's the first loss of the playoffs for the Cavs, who swept through the first two rounds undefeated and won the first two games against the Raptors.
Game four is on Monday night in Toronto.