Chavez surges to Giro stage win as mountains sow heartbreak
Comments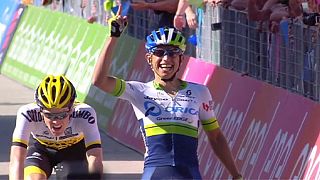 Joy for Esteban Chavez at the victory, but the Giro d'Italia sneered down at the field of riders on stage 14 and dared them to match themselves against the toughest stage yet, with multiple heart-bursting mountain climbs. It would prove especially tough for a fellow Colombian rider.
Of the big name riders near the head of the pack Vincenzo Nibali was the most active and tried with several attacks to reel in the breakaway leader, Colombia's Darwin Atapuma. It meant when Nibali faced counter-attacks of his own, he had nothing left to give.
Heartbreak would overtake the race leader, too. Atapuma was ahead on the final climb with only easy riding to the line, but he was overhauled in the final metres and was in tears at the end as three riders took the tape before him.
Esteban Chavez won the stage, but the overall lead passes to the Netherland's Steven Kruijswijk.