'We don't want a Cold War', NATO tells Russia
Comments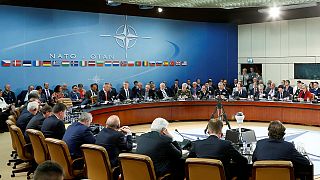 Russia has reacted angrily to NATO's membership invitation to Montenegro, which was made formally on Thursday.
The Kremlin said the Western military alliance's further expansion was a "negative process".
The Kremlin has also criticised NATO for announcing a bilateral meeting would be held with Russia before its July summit – due to be held in Warsaw – saying it should have consulted Moscow first.
At NATO's foreign ministers' meeting in Brussels the secretary general said troops would be deployed in eastern Europe but details had yet to be decided.
"The signal of having a multinational presence sends a very clear signal about that an attack on one ally would be an attack on the whole alliance. But at the same we are sending a signal about that NATO does not seek confrontation. We don't want a new Cold War, and we're are still striving for more constructive and cooperative cooperation with Russia," Jens Stoltenberg told a news briefing.
Britain has said NATO's build-up in eastern Europe could include up to 3,500 troops, stressing that the planned deployments would not be aggressive towards Russia.
Moscow's annexation of Crimea in 2014 has prompted the alliance to consider deterrent forces in the Baltics.