NATO flexes military muscle to counter Russia
Comments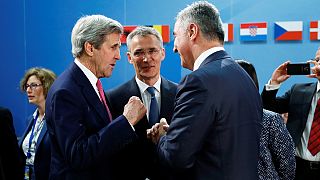 NATO is mulling its biggest military build-up since the Cold War to counter perceived threats from Russia.
Foreign ministers are discussing the plans at a two-day meeting in Brussels.
Leaders from the alliance are expected to sign off on the plans at a summit in Warsaw in July.
"We are looking into how we can increase our forward presence of NATO forces in the east an part of the alliance, combined with enhanced ability to reinforce if needed," said NATO Secretary General Jens Stoltenberg.
"We will discuss how NATO can do more to project stability and at the same time address how NATO can continue to adapt to a more assertive Russia to find the right balance between defence and dialogue," he said.
Some 4,000 troops are set to be stationed in Poland and the Baltics.
NATO wants to avoid a repeat of the 2014 Ukraine crisis, which saw Russia annex Crimea and send its forces into the east of the country.
It follows years of defence cuts by the alliance's European allies, causing anger in the United States, which pays for one-fifth of NATO's total budget.
Meanwhile, ministers signed a deal with the Balkan state of Montenegro to mark its accession into the alliance.
The country's prime ministers, Milo Djukanovic, said membership "will help bring about stability in the region and beyond."
Russia has long claimed that NATO expansion is a direct security threat.