Turkey's pro-Kurdish opposition to fight move to strip MPs of immunity
Comments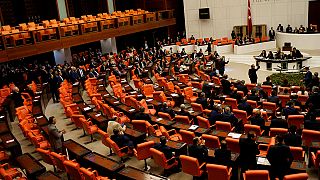 Turkey's parliament has voted to strip its members of immunity from prosecution; a move likely to see the pro-Kurdish opposition sidelined.
President Recep Tayyip Erdogan has accused the pro-Kurdish HDP, parliament's third-biggest party, of being the political wing of militants who've waged a three-decade insurgency in the country's largely Kurdish southeast.
The HDP denies such links and says its parliamentary presence could be all but wiped out if prosecutions go ahead. It has also made clear it will challenge the move at the constitutional court.
In the third and final vote of a secret ballot, 376 MPs in the 550-seat parliament backed the plan to lift MPs immunity, a high enough level of support to change the constitution directly without needing to hold a referendum.
The new law will allow prosecutors to pursue members of parliament who currently face investigation: that includes 138 deputies, of whom 101 are from the HDP and main opposition CHP. The HDP has said an overwhelming majority of its 59 deputies could be jailed, mostly for views they have expressed.