Taiwan's first female president Tsai Ing-wen sworn in
Comments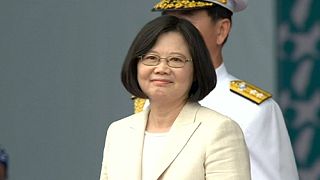 Taiwan's first female president being has been sworn in.
Tsai Ing-wen's Democratic Progressive Party (DPP) won by a landslide on voter resistance to creeping dependence on neighbouring China.
Beijing is deeply distrustful of her DPP who promotes a "sovereign and independent" Taiwan.
Communists say they rule all of China, including Taiwan, while nationalists maintain Taipei is the ruler.
Tsai said she will safeguard Taiwan's sovereignty and territory and the island would be a "staunch guardian of peace."
Tsai Ing-wen, Taiwan's first female president. pic.twitter.com/IDHpQY6XnJ

— Wilfred Chan (@wilfredchan) May 20, 2016