Nigel Farage launches UKIP's Brexit battle bus
Comments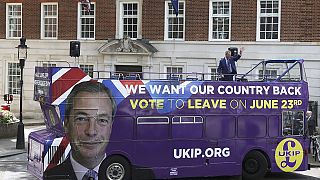 The UK Independence Party leader has launched UKIP's 'Brexit battle bus' outside the Commission building in London, ahead of the referendum on Britain's EU membership.
Nigel Farage said June 23 would be "Independence Day" if Britain voted to leave.
He is rejected by the official Vote Leave campaign which believes he puts voters off. But their message on the EU is similar.
"It is the establishment, it is the wealthy, it is the multi-nationals, it is the big banks, it is those whose lives have really done rather well in the last few years who are supporting remaining and against it is the people. Against it is the people," Nigel Farage told reporters.
We want our country back! EU referendum bus tour will be coming to a town near you. pic.twitter.com/I5YYDh4app

—

UKIP

(@UKIP) 20 May 2016
The rival Vote Leave movement has claimed that if Britain stays in the EU, increasing numbers of migrants could swell the UK's population by an extra five million by 2030 – an argument dismissed as "absurd" by Remain campaigners.
They say the figures are based on five new applicant states actually joining the EU by 2020, which Britain could veto.
European Commission President Jean-Claude Juncker has told France's Le Monde newspaper said Britain will have to accept being treated like an outsider if it votes to leave the EU.
The "Britain Stronger in Europe" campaign has highlighted a letter signed by many well-known names in the creative industries calling on the UK to remain in the union.
Please RT: a host of A-list actors say creative Britain is stronger & better off IN Europe. https://t.co/Uc55IroF7Tpic.twitter.com/bfYLWdY2Pc

— Stronger In (@StrongerIn) 20 May 2016