Brazil's Workers' Party tells euronews "world should reject coup"
Comments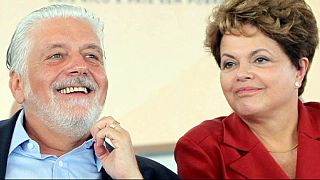 Brazil's Workers' Party has launched a diplomatic offensive against the country's interim president.
Senior politician and former number two to Brazil's impeached leader, Jacques Wagner appeared on euronews to call for international support in rejecting what has been described as 'a right-wing attack on democracy'.
"I think that all democrats within the European Union and the rest of the world need to worry about countries like Brazil, one of the biggest democracies of the western world. We internally will continue to resist (the coup). We want to have international solidarity from those that are like us who believe that there was in Brazil an illegal processes dressed up as justifiable impeachment of President Dilma," said Wagner.
Brazil's Workers' Party does not recognise the new interim government of Michel Temer and claims most South American nations have rejected the decision to remove Rousseff for 180 days while she faces an impeachment trial.