Rousseff attacks Brazil's 'illegitimate' interim government and vows to return
Comments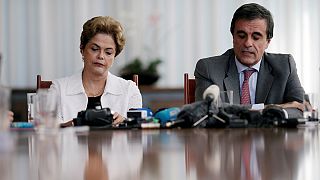 Brazil's suspended President Dilma Rousseff has repeated to foreign journalists her defiant message that she will fight to return to government.
The ousted leader was speaking on the first day of her suspension for allegedly manipulating the size of the public deficit to aid her re-election.
Rousseff took aim at her interim successor Michel Temer – himself under investigation for corruption – who was sworn into office on Thursday.
"What we have today in Brazil is (on the one hand) a temporary government, an interim government, and (on the other) a president elected by 54 million people. (It's) therefore an interim government and an illegitimate government from the voters' point of view. We will fight to come back," Rousseff told the gathering of journalists at her residence in Brasilia.
Friday night saw another protest against the Senate's decision to suspend Rousseff for up to 180 days and put her on trial for breaking budget laws.
Her supporters like those who turned out in Rio de Janeiro argue that the process is a political move by the right. They claim the fiscal manoeuvre she carried out ahead of the 2014 elections has been legally employed by previous governments.
Brazil's centre-right interim government said on Friday it had the political support for tough measures needed to return the economy to growth and could secure a permanent mandate once Rousseff's impeachment trial was over.
Presidential Chief of Staff Eliseu Padilha said the suspended president had left Brazil with unprecedented levels of fiscal deficit and public debt.