At least one dead after two quakes hit Ecuador
Comments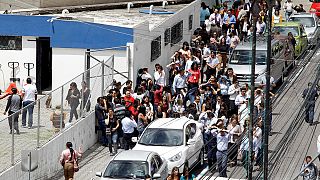 At least one person has died and dozens have been injured after two earthquakes shook Ecuador, which is still reeling from a massive tremor last month.
The latest, measuring 6.7 and 6.8 in magnitude, cut electricity in some coastal areas and sent people running into he streets.
"We were sleeping and we couldn't even get up from the bed. The wall almost fell on us," said Euterio Quinonez, one affected resident.
One of the quakes happened during the night, the other just before midday local time on Wednesday.
They were centred in Esmeraldas province and people felt the effects as far afield as the capital Quito, hundreds of kilometres away.
Last month's quake was even bigger – of magnitude 7.8 – and killed more than 650 people.
It flattened buildings and was the worst to hit Ecuador in nearly seven decades.
"You can imagine those who suffered through the 7.8 earthquake, now have this 6.8 replica," said Rafael Correa, Ecuador's President.
"Obviously there was panic in the shelters, much fear, but we are calling for calm. Perhaps in the areas of greatest danger, the people who are safest are the ones who are in the shelters, because they're in tents."
Ecuador escaped with light damage this time around, but the scars of what happened last month are still clear to see. That quake requires a massive recovery effort, which continues.